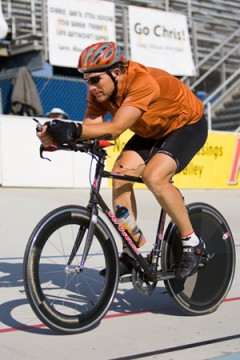 Chris Paradysz, 47, set a 24-hour velodrome record of 416.09 miles (669.63km) at the Valley Preferred Cycling Center in Breinigsville, Pennsylvania, raising $40,000+ for lupus research and the S.L.E.* Lupus Foundation.
Chris who's  19-year-old daughter Allie suffers from the disease broke the 28 year old record, set in 1980, of 391.29 miles (629.72km).
"I wanted to do something that required mental toughness and physical endurance," Paradysz said, "because that is what it takes to live with lupus every day. I did this to honour my daughter and the other brave people with lupus."
Paradysz cycled as a teenager. But, until he began training for the 24-hour ride attempt last summer, he had rarely ridden a bike in 25 years.
"This was an amazing accomplishment and a testament to a father's love for his daughter," said Margaret G. Dowd, executive director of the S.L.E. Lupus Foundation. "Lupus is a young women's disease that often goes undiagnosed. It has been over 50 years since a new treatment was approved for lupus. Research money is urgently needed.

continue reading "47-year-old Breaks 28 Year Old 24 Hours Bike Record"