Here's some light bedtime reading for all those interested in the aerodynamics of cycling.
These are just summary's of the chapters so please be sure to click on the chapters titles to be taken to the full chapter over at eFluids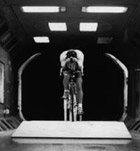 AERODYNAMICS have preoccupied bicycle designers since the early part of this century. The most advanced bicycles today are deployed in track racing. The recently unveiled SB II, or Superbike II, has a lightweight carbon-fiber frame. It also has a range of aerodynamic design elements. Similar features are incorporated into bicycles for some road-racing events in which Lance Armstrong competes.
As the bicycle and its rider move along the road, the air exerts a force that increases sharply with speed. The force is due to friction between the air and the exposed surfaces of the rider and bicycle. At high speed, this drag force can be the most importance source of resistance, and with a wind blowing, it can also lead to significant side forces.